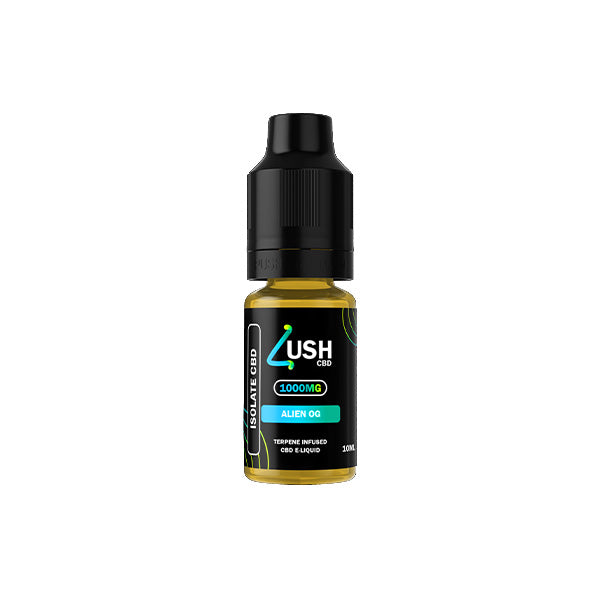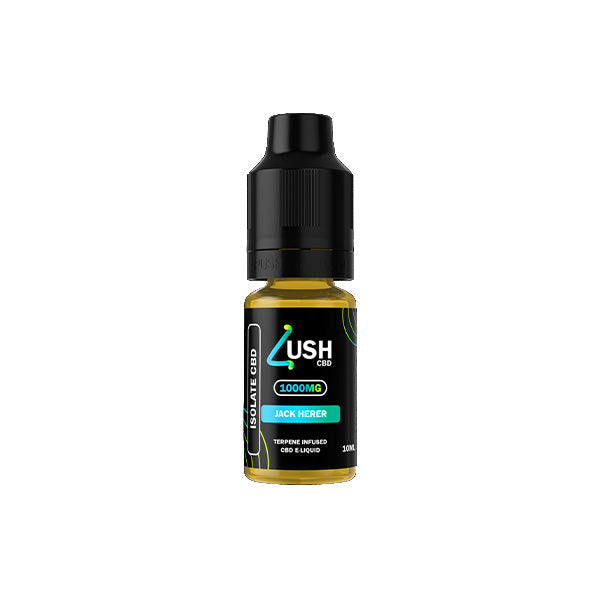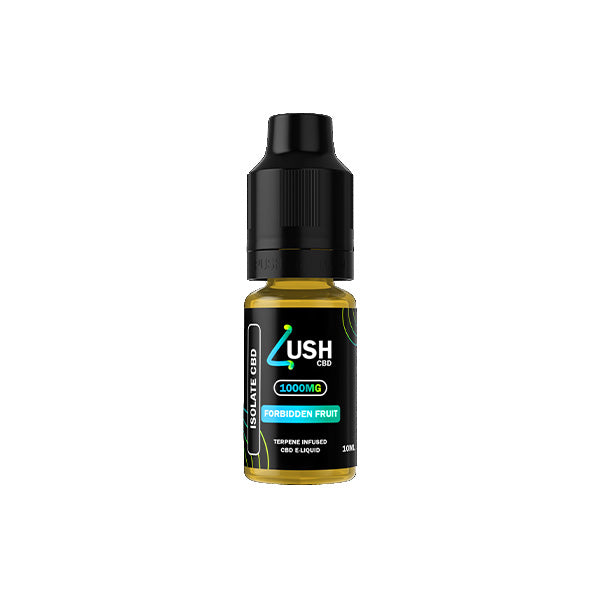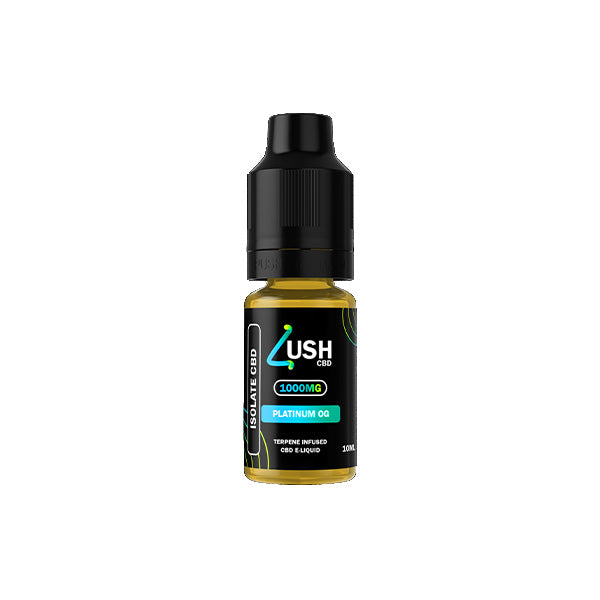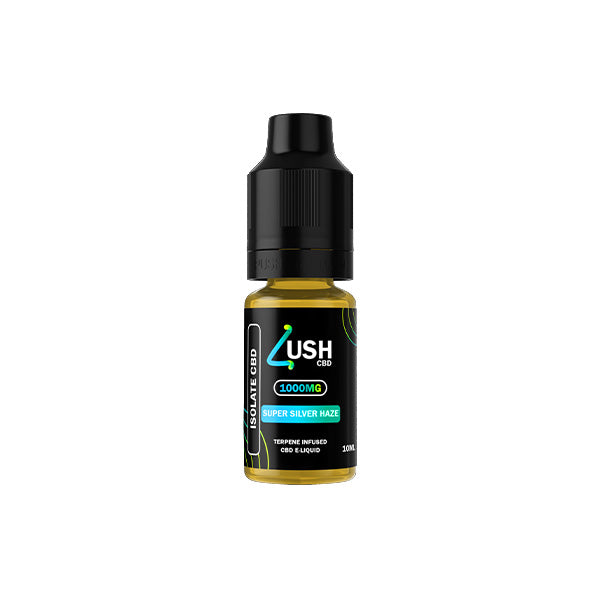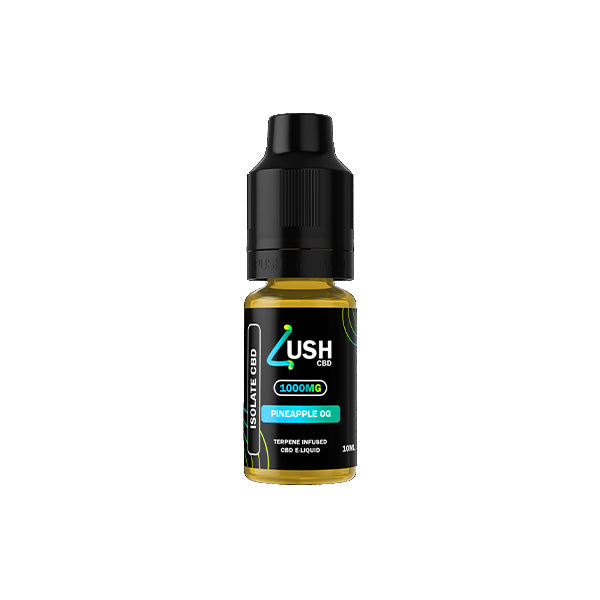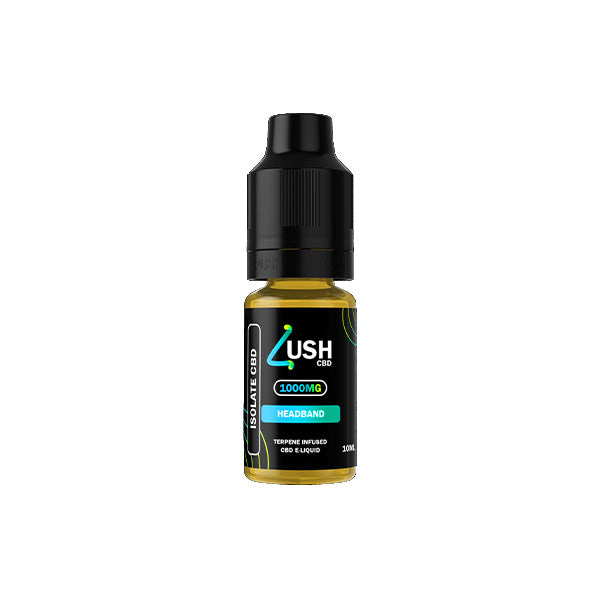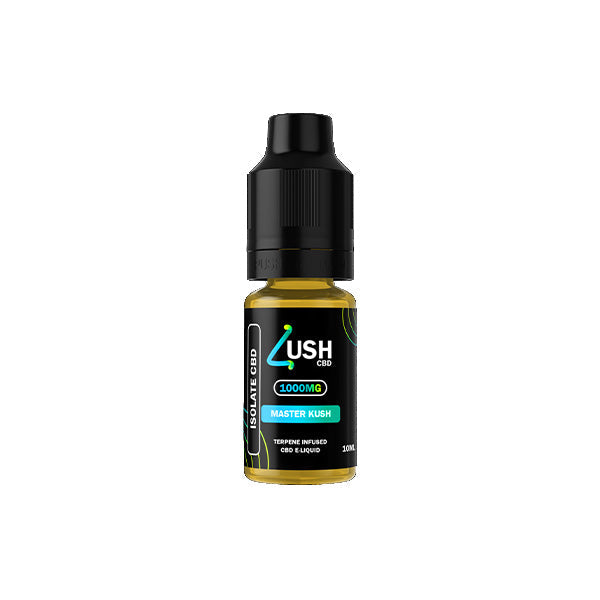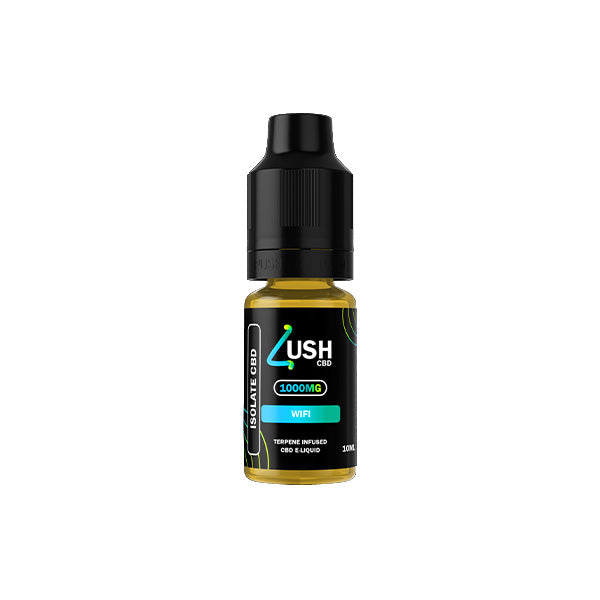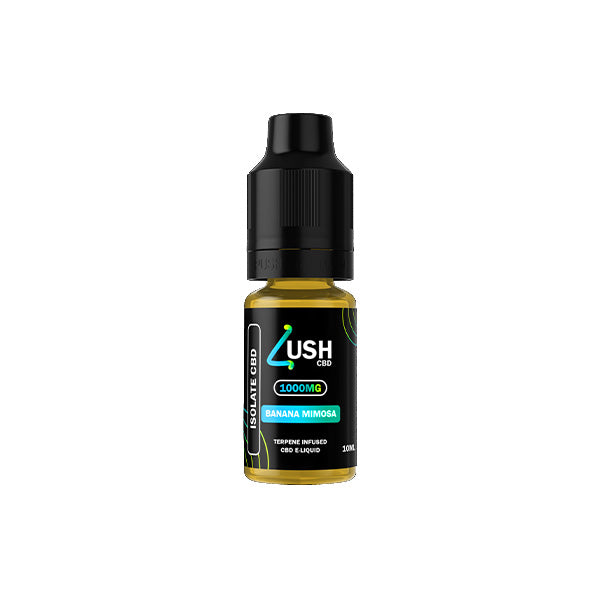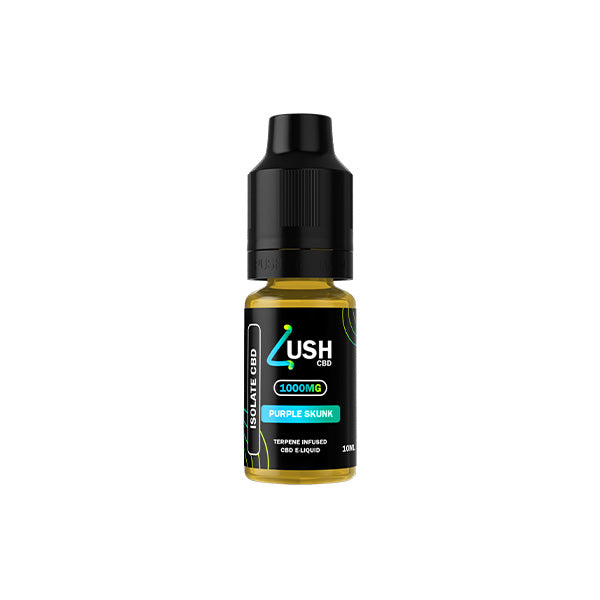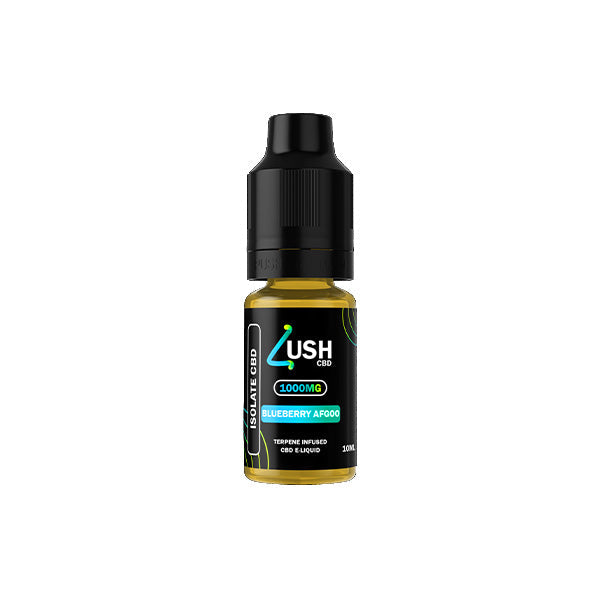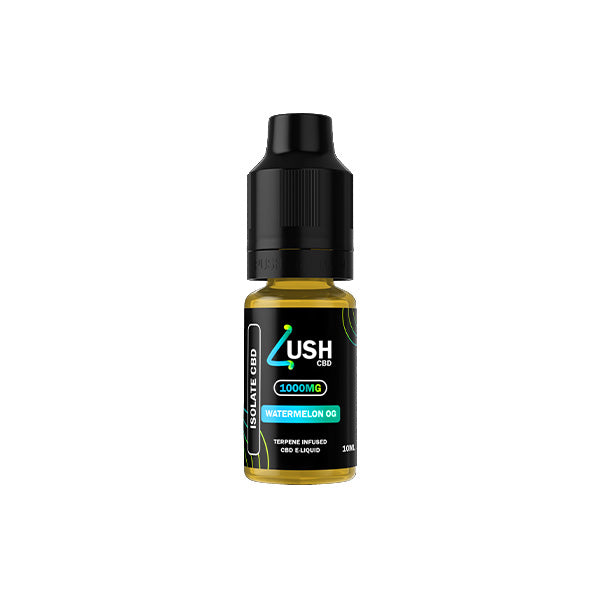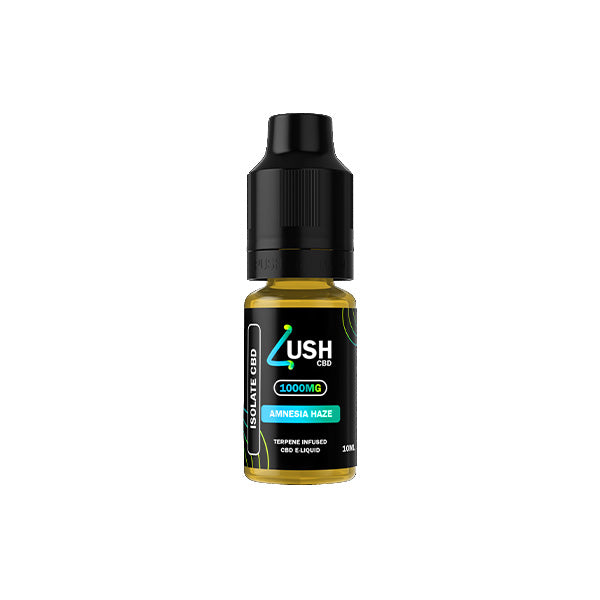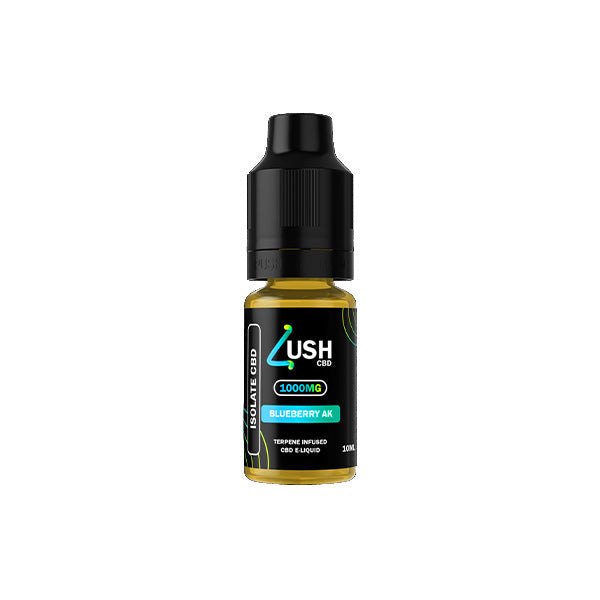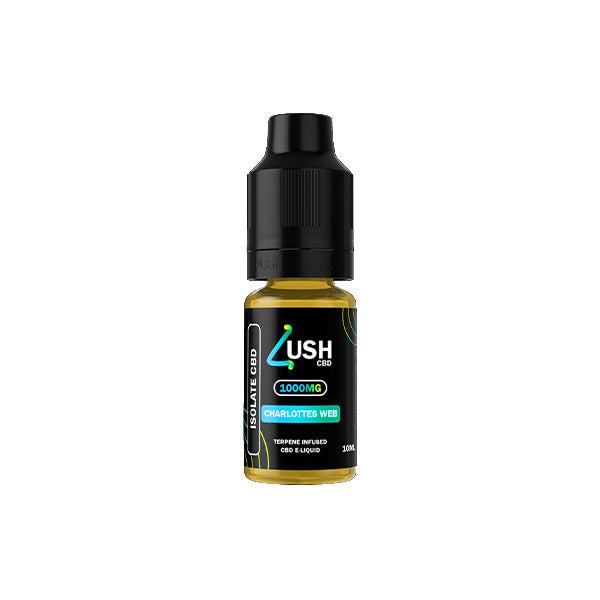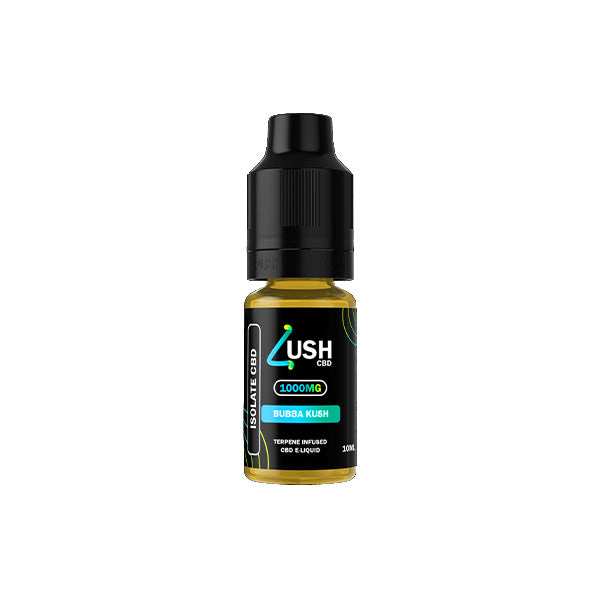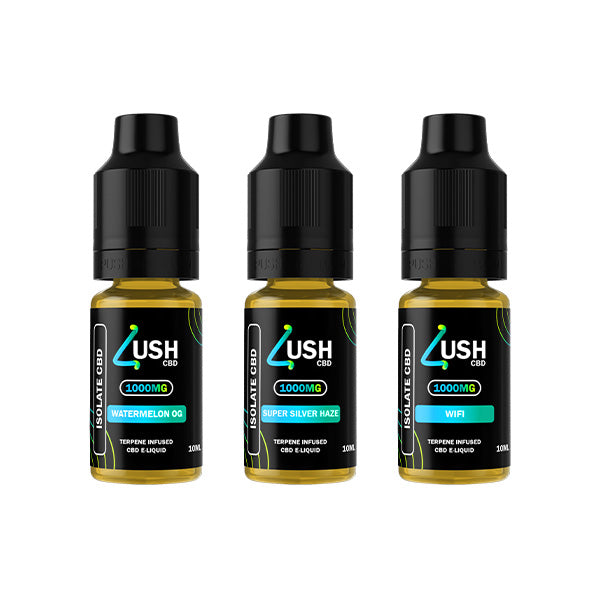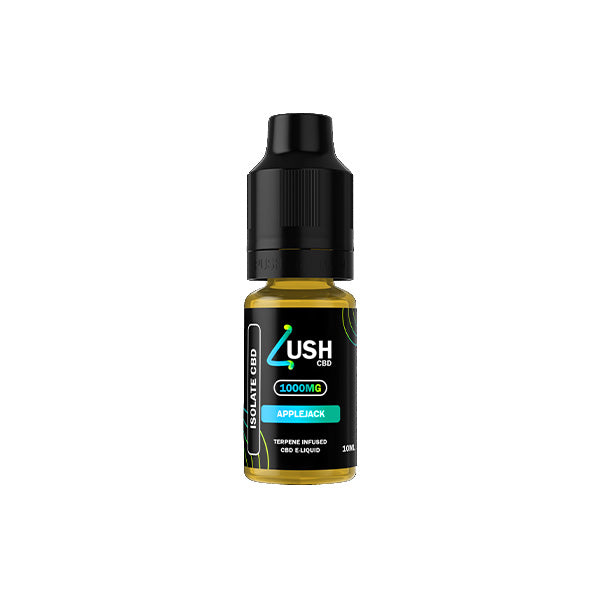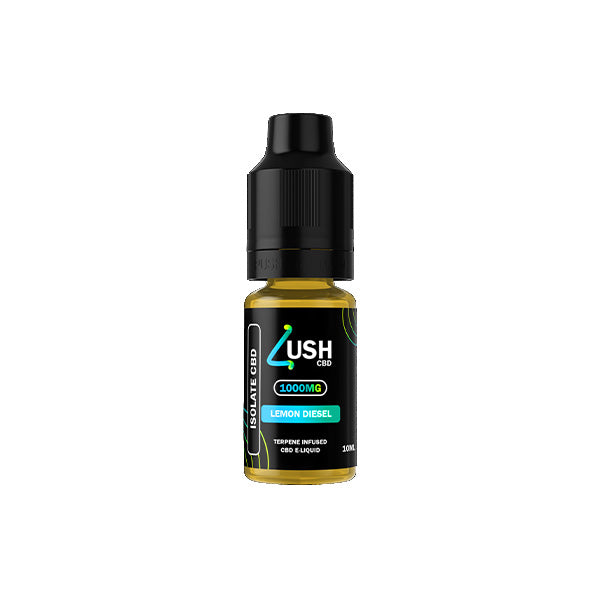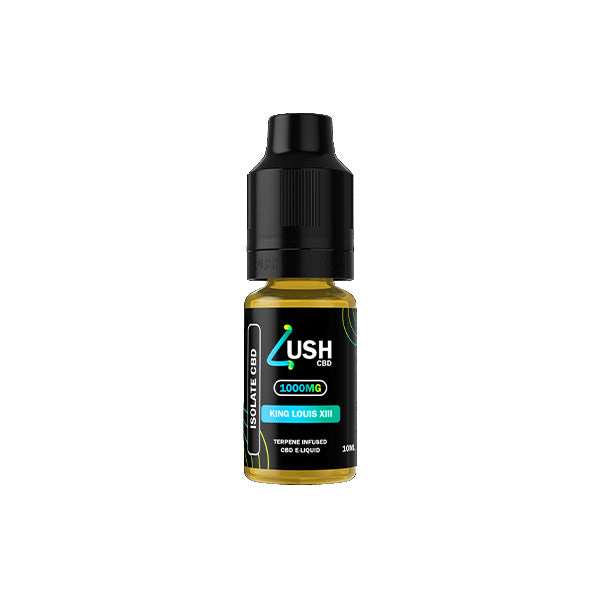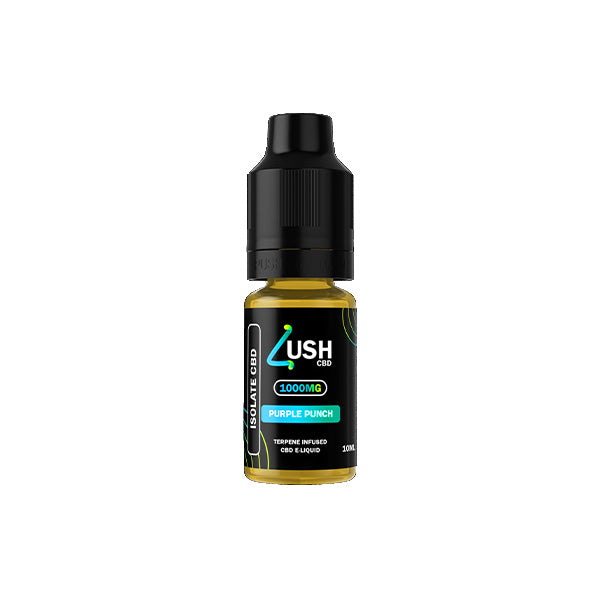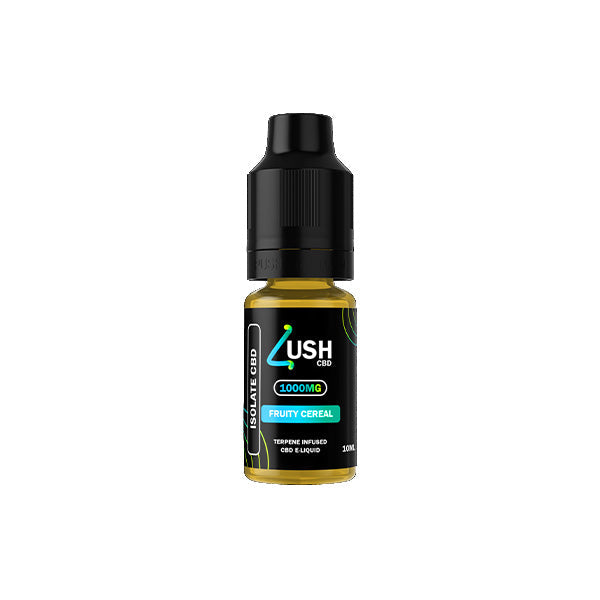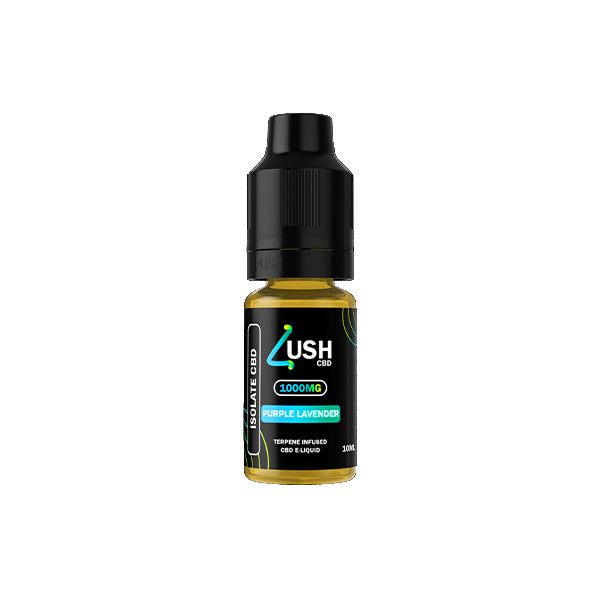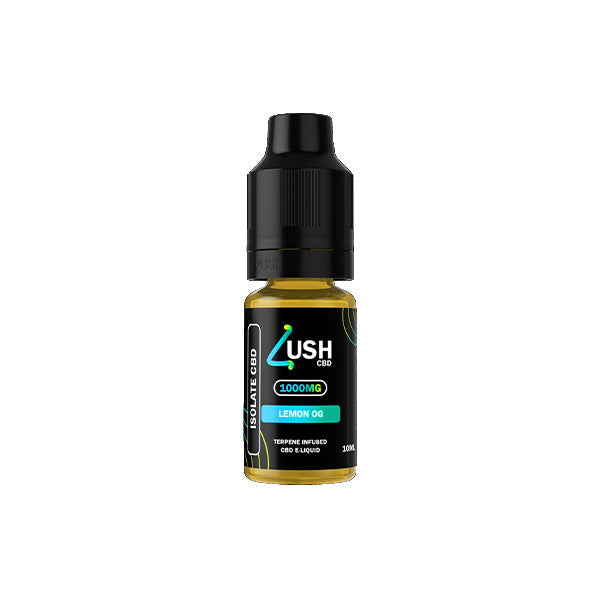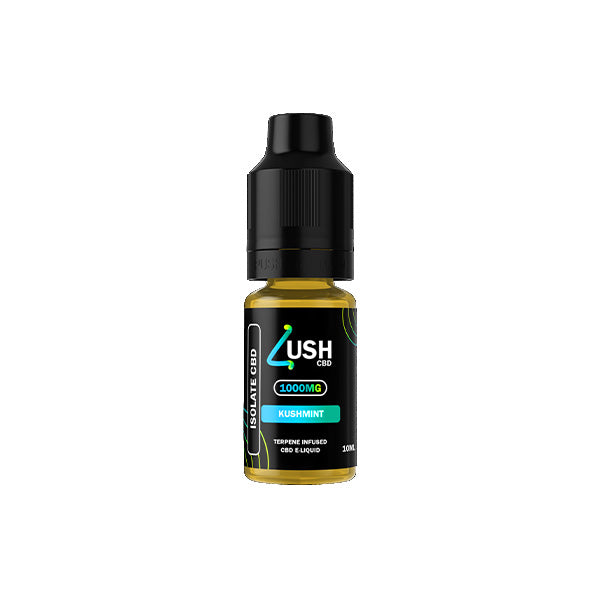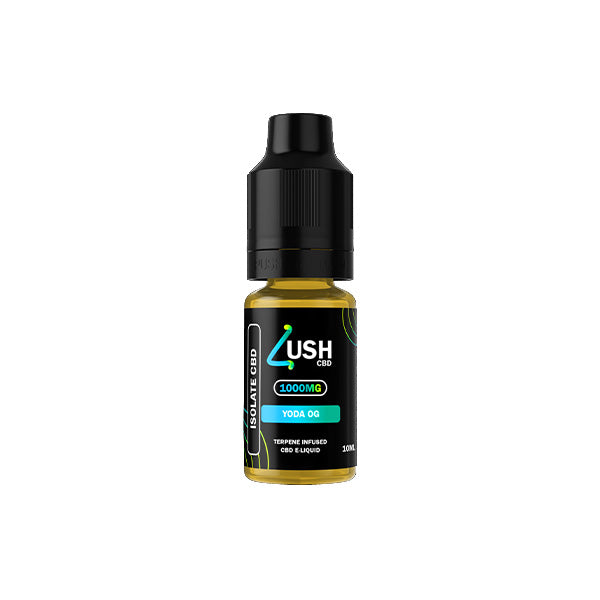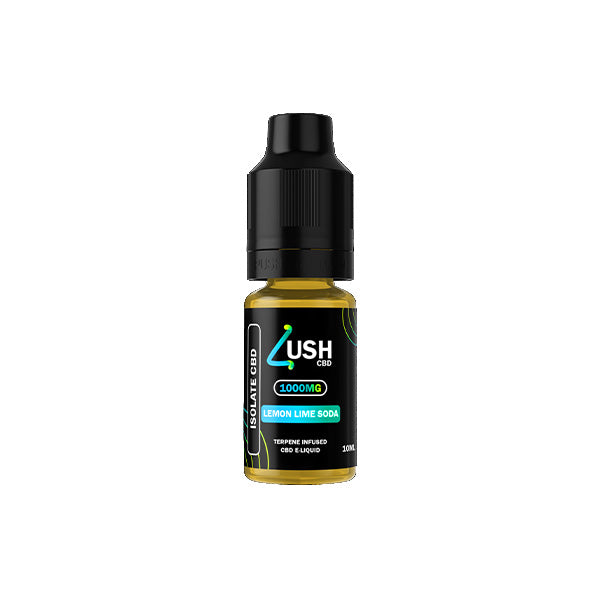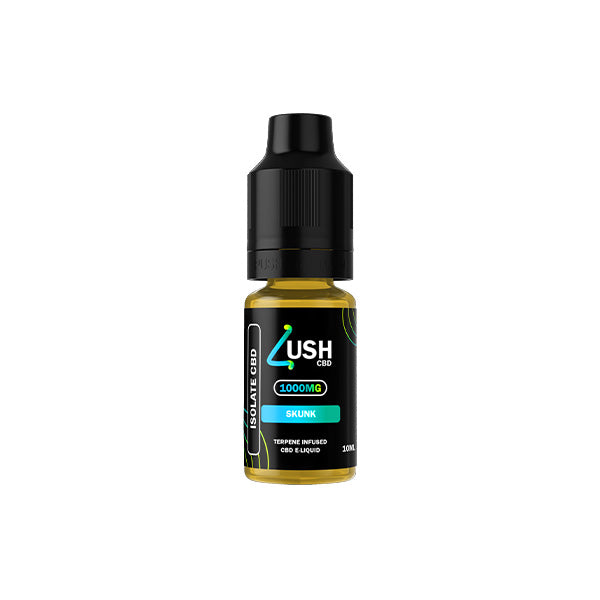 Lush CBD 1000mg Terpene Infused CBD Isolate E-liquid 10ml (70PG/30VG)
Proudly promoting their new range of premium 10ml Terpene Infused 1000mg CBD Isolate E-liquid range, Lush CBD will give to any self respecting vaper the highest quality of CBD infused vaping. Choose from up to 29 tantalising terpene strains that you'll want to sink your taste buds into.

Being 70PG/30VG CBD E-liquids, a smooth, satisfying throat hit with low levels of vapour cloud production and thickness will be experienced with any of the Lush CBD flavours you pick.
Made In The UK
1000mg CBD Isolate E-liquid
10ml Bottle
99.6% Pure CBD Isolate
70PG/30VG
Childproof Cap and Tamper Evident Seal
Recyclable Bottle & Box
TPD Complaint
Flavours:
Alien OG
A 50/50 hybrid that is a cross of Tahoe OG and Alien Kush.

Fragrance: It has a woody and citrusy aroma which is complimented by a piney, lemony flavour that is sure to rejuvenate the senses.

Amnesia Haze
A heavily sativa-dominant strain with an 80:20 sativa to indica ratio. As its name suggests, this hybrid contains some Haze genetics, but its lineage is exceptionally diverse. It is a blend of Jamaican and South Asian landraces crossed with Hawaiian, Thai, Cambodian, and Jamaican sativa's.

Fragrance: Amnesia Haze has a pungent earthy aroma with a distinctive citrusy lemon undertone.

Apple Jack
A hybrid strain made by crossing Jack Herer and White Widow.

Fragrance: This strain features a flavour profile that is skunky and earthy with undertones of sliced apple.

Banana Mimosa
A hybrid strain made by crossing Banana Kush with Purple Punch.

Fragrance: This strain has a strong aroma and flavour that reminds you of its namesake – with notes of Citrus and Banana bursting through.

Barry White
Also known as "Berry White," this is a hybrid strain that is the offspring of parents of near-celebrity status in the cannabis world: Blueberry and White Widow.

Fragrance: Barry White's flavour is a robust blend of sweet blueberries, with spicy notes and strong hints of pine.

Blueberry Afgoo
This comes from the combination of parent strains Blueberry and Afgooey. This is a balanced hybrid strain leaning more towards the indica side.

Fragrance: It gives off scents of earth, pine, and fruity blueberries.

Blueberry AK
As the name suggests, Blueberry AK is a hybrid strain that combines the indica-dominant Blueberry with the sativa-dominant AK-47.

Fragrance: Blueberry AK has a strong musky odour with undertones of berry, and flavours ranging from sweet Kush to the more peppery taste of the AK.

Bubba Kush
Also known as "BK," "Bubba," and "Bubba OG Kush", Bubba Kush is an indica dominant strain. It's parents are said to be OG Kush and an unknown strain.

Fragrance: Bubba Kush possesses a sweet, pungent and grounding aroma, often reminding consumers subtly of chocolate and coffee. Its flavour is like hashish, earthy and nutty in taste, yet with a sweet side that all ties together.

Charlottes Web
A sativa dominant strain and is considered by some to be a variation of hemp.

Fragrance: The flavour sends full-bodied sweet and woodsy base notes to the taste buds, topped off with hints of subtle lemon, citrus, and sage.

Forbidden Fruit
This indica dominant strain is the mouth watering cross of both Cherry Pie and Tangie strains.

Fragrance: It is a perfect mixture of Cherry Pie's musky, sweet cherry undertones and Tangie's loud tropical flavours.

Fruity Cereal
This hybrid strain was developed by Alien Genetics from a cross between Green Ribbon, Granddaddy Purple, and Tahoe Alien.

Fragrance: It has become one of the most popular strains on the market due to its intense tropical, berry flavour with a smooth fruity aroma.

Headband
Also known as simply "HB," Headband is a hybrid strain and love-child of cannabis' power couple, OG Kush and Sour Diesel.

Fragrance: The Headband strain also tastes amazing as well, getting a lot of its main features of lemon and diesel from its parents. It also has notes of vanilla on exhale as well.

Jack Herer
A sativa dominant strain and was made by crossing a Haze hybrid with Northern Lights and Shiva Skunk.

Fragrance: The taste has a citrus dominant flavour with notes of pine and skunk.

King Louis XIII
Also known as "King Louis" and "Louis XIII Kush", King Louis XIII is an indica strain made by crossing OG Kush with LA Confidential.

Fragrance: This strain announces itself as many people did in the 1600s: by its smell. An overwhelmingly piney smell with an earthy musk that will have you thinking of your last forest adventure. Because of its OG Kush heritage, Louis XIII has a very similar spicy kush aroma.

Kushmint
A hybrid strain made by crossing Animal Mints with Bubba Kush.

Fragrance: This strain has a complex flavour profile that tastes like mint and cookies.

Lemon Diesel
A hybrid made by crossing California Sour with Lost Coast OG.

Fragrance: This strain offers a delicious flavour that is fruity and sweet with hints of citrus, pepper and diesel.

Lemon Lime Soda
A sativa-dominant 60/40 hybrid strain with a mysterious origin. It is thought to be a cross of Lemon and Key Lime Haze.

Fragrance: As the name tells, the Lemon Lime strain's dominant flavours resemble fresh citrus.

Lemon OG
Also known as "Lemon OG Kush," is an indica-dominant strain. A cross between the mythical Las Vegas Lemon Skunk and The OG #18.

Fragrance: Lemon OG is a strain with a striking scent. The potent citrus and lemon notes hit your olfactory system immediately upon smelling. The large quantity of terpenes is apparent as the sweet citrus combines beautifully with hints of skunk and kush.

Master Kush
Also known as "High Rise," "Grandmaster Kush," and "Purple SoCal Master Kush", Master Kush is a popular indica strain crossed from two landrace strains from different parts of the Hindu Kush region.

Fragrance: It has a nice lemon and citrus flavour with hints of flowers and incense, making it a perfect choice for those who enjoy more earthy notes in their terpenes.

Pineapple OG
Also known as "Pineapple OG Kush" and "OG Pineapple," Pineapple OG is a 70% sativa hybrid strain and is thought to be a cross between Pineapple Express and an unknown OG Kush hybrid.

Fragrance: A sweet-spicy pineapple flavour and odours of lemon, pine and fuel.

Platinum OG
Just as precious as the metal it's named after. This indica dominant hybrid is reported to stem from three strains, Master Kush, OG Kush and a third unknown parent.

Fragrance: The initial aroma of Platinum OG is one that resembles thickly packed earth just after a rainstorm, filling your sinuses with a fresh, natural smell. Subtle herbal tones begin to come out, taking you on a journey through an herb garden, breathing in all of the different herbal scents at once.

Purple Lavender
Also known as "Lavender" and "Lavender Kush", this strain has rich and diverse genetics. Created by Soma Seeds, the strain is a cross between Super Skunk, Big Skunk Korean, and Afghani Hawaiian.

Fragrance: The taste of the Lavender strain is best described as floral, herby and extremely spicy with qualities of hash hidden within it.

Purple Punch
The sweet and sedating union of two indica-dominant classics. By breeding Larry OG with Granddaddy Purple, the astonishing trichome laden Purple Punch was born.

Fragrance: Purple Punch has a mouth-watering aroma, a mixture of sweet and sugary notes likened to a fusion of grape-flavoured Kool-Aid and freshly-baked blueberry muffins.

Purple Skunk
An uplifting, sativa-dominant cross of Skunk #1 and an older purple strain.

Fragrance: Purple Skunk has a sweet berry-like taste infused with earthy notes on the inhale, making for a pleasant vape. Some users say that Purple Skunk has a rich, almost wine-like taste, making for a unique experience. This strain's skunky flavour is most prominent on the exhale.

Skunk #1
A hybrid strain that is indica-leaning and has influenced cannabis on a global scale, parenting a horde of Skunk crosses since it first bloomed in the late 1970s.

Fragrance: Skunk #1 provides hints of earthy sweetness. Some claim this strain tastes sour and dirt-like, but not in an unpleasant way. You may also find that it offers a creaminess that leaves a sweet, herbal aftertaste.

Super Silver Haze
A sativa dominant strain made by crossing Skunk, Northern Lights, and Haze.

Fragrance: Super Silver Haze's aroma is immensely pleasant but in an unexpected manner. This strain does not feature any sweet or candy-like notes but instead appeals to the more dynamic aspects of sense – including spicy, skunky, diesel, and sage-like notes that bring you back down to earth.

Watermelon OG
An indica dominant strain, but no one is 100% sure as to its origins! It is likely to be a cross of parents from the Berry family, which would explain the sensational flavour.

Fragrance: This strain has a distinct fruity watermelon flavour profile, reminiscent of grape with hashy undertones.

Wifi
Also known as "Wifi OG," "White Fire OG," "White Fire," and "WiFi Kush," Wifi is a hybrid strain. It is made by crossing Fire OG and The White.

Fragrance: This strain features notable aromas that are sour and earthy.

Yoda OG
Also known as "Yoda," Yoda OG is an indica hybrid strain and a descendant of the legendary OG Kush. Although it's lineage is a little mysterious some believe that it is a cross between Chemdawg, Lemon Thai and Old World Paki Kush.

Fragrance: Yoda OG has a deliciously sweet and citrusy lemon flavour, which also has hints of vanilla. These crisp, sweet flavours are offset by a slight diesel undertone, which gives Yoda OG a somewhat pungent flavour.

THC content<0.2%